NEWSFLASH #3: Projekt InduCCI – What's happened since then!
The Covid-19 sit­u­a­tion has left the InduC­CI project not unaf­fect­ed. We met with part­ners in the Chem­nitz "Open Air Office" and in this third news­flash you can read what has hap­pened since then.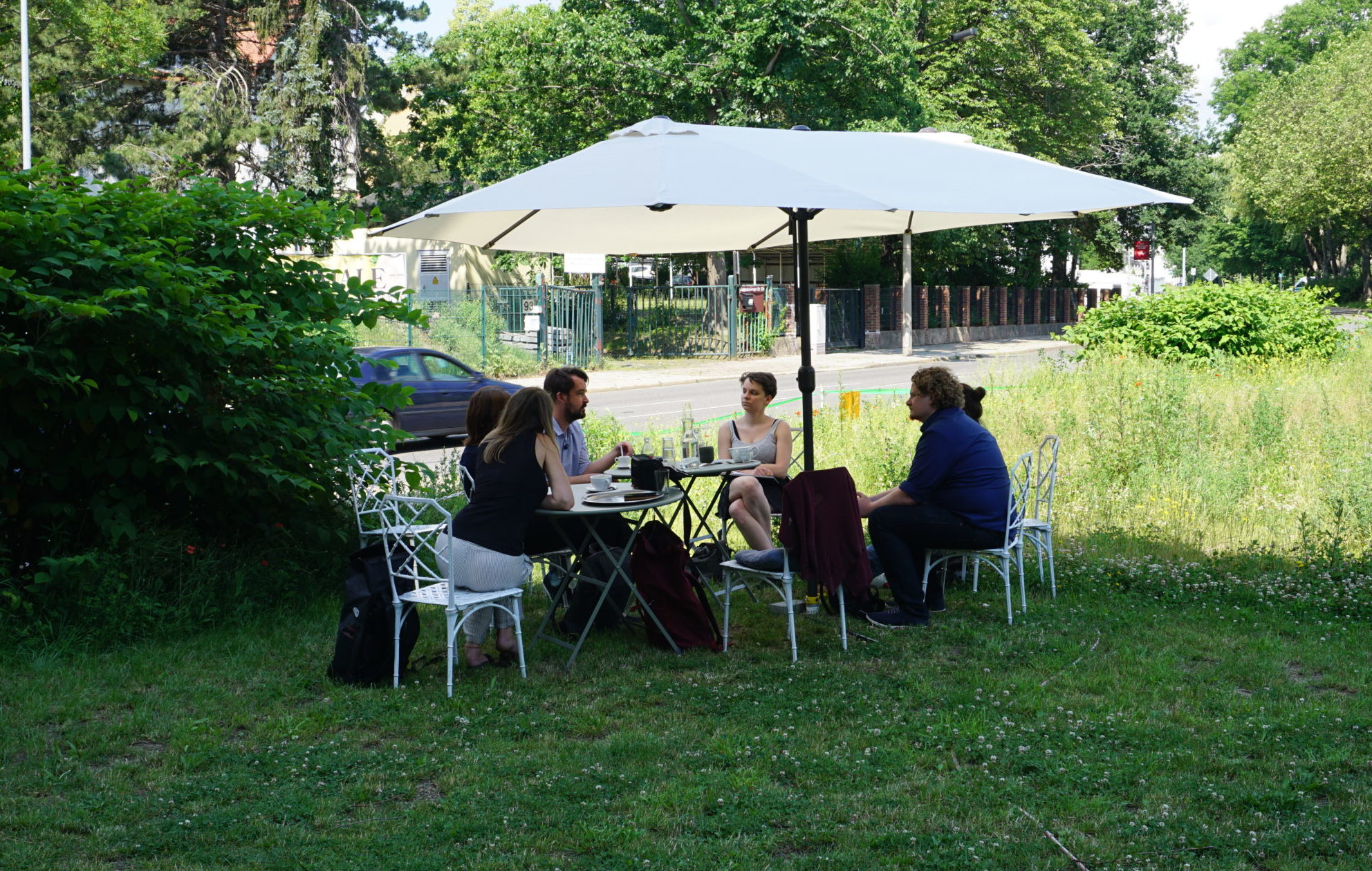 The sev­en region­al analy­ses of our part­ners on Cul­ture and Cre­ative Indus­tries (CCI) are com­plet­ed. Pre­lim­i­nary con­clu­sion: While some regions have been well posi­tioned for years with regard to the exis­tence and pro­mo­tion of CCI, oth­er part­ners have to draw atten­tion to the poten­tial of this impor­tant eco­nom­ic sec­tor. If you like to know more: The region­al analy­ses of our part­ners are avail­able via the InduC­CI home­page.
Fol­low­ing the region­al analy­ses, we high­light­ed in an analy­sis of exist­ing strate­gies for CCI at Euro­pean lev­el, which EU insti­tu­tions are already com­mit­ted to the Cul­tur­al and Cre­ative Indus­tries, which strat­e­gy papers exist at Euro­pean lev­el on the pro­mo­tion of CCI and which EU projects and net­works are deal­ing with the issue of CCI (in indus­tri­al regions). This report can also be down­loaded in Eng­lish via the InduC­CI home­page.
In the upcom­ing sev­en region­al strat­e­gy papers for the cul­tur­al and cre­ative indus­tries our project part­ners are about to for­mu­late rec­om­men­da­tions for their regions. These rec­om­men­da­tions are to be passed on to suit­able stake­hold­ers in region­al and nation­al pol­i­tics. The guide­line we have pre­pared for this pur­pose is intend­ed to help the project part­ners to set up the rec­om­men­da­tion. Above it all, the coop­er­a­tion with the region­al focus groups is in the foreground.
Linked to the sev­en region­al strat­e­gy papers, it is the respon­si­bil­i­ty of SACCI to for­mu­late a transna­tion­al pol­i­cy rec­om­men­da­tion, which is lat­er con­vert­ed into a brochure to be hand­ed out to var­i­ous polit­i­cal insti­tu­tions. The focus is on rur­al regions as well as small­er and larg­er cities in Cen­tral Europe, which are under­go­ing a sim­i­lar struc­tur­al change as the InduC­CI part­ner regions. Our aim is to for­mu­late cen­tral mea­sures that can also be help­ful for Cen­tral and East­ern Euro­pean indus­tri­al regions.
Anoth­er goal of the work at InduC­CI is aware­ness rais­ing among var­i­ous inter­est groups for the needs of CCI. Based on this, we designed an online course for the intro­duc­tion to CCI for employ­ees of the pub­lic admin­is­tra­tion staff. As a dig­i­tal sup­ple­ment to the admin­is­tra­tion train­ing, the course includes a quiz with ques­tions about CCI, links to region­al ser­vice providers of CCI in our part­ner regions as well as num­bers and def­i­n­i­tions of CCI on Euro­pean and region­al lev­el. It also includes rec­om­men­da­tions on where admin­is­tra­tion and CCI can come togeth­er. The course is avail­able in Eng­lish until 31.12.2021. At the third InduC­CI Part­ner Meet­ing we vir­tu­al­ly exchanged infor­ma­tion about this online tool and all oth­er com­plet­ed and upcom­ing tasks at InduC­CI with­in one week.
What comes next?
We are cur­rent­ly work­ing on the prac­ti­cal imple­men­ta­tion of our two test cas­es. In the con­text of "Arts meet technology"/"Labor 2025" the kick-offs took place vir­tu­al­ly and phys­i­cal­ly, so that the artists could exchange ideas with the tech­ni­cal insti­tutes in Chem­nitz for the planned autumn acad­e­my. For our test case "CCI Show­case", which presents prod­ucts, ser­vices and event for­mats of cul­tur­al and cre­ative peo­ple from the Chem­nitz region to vis­i­tors, we are cur­rent­ly organ­is­ing rooms with our exter­nal project part­ner. We hope we will be able to realise this won­der­ful show­case in the begin­ning of 2021 in a coro­na-con­form way. Please stay curious!
Image rights:
1st pho­to: "coro­na con­form work in Chem­nitz". Pho­to­graph­ic rights: Lan­desver­band der KKW Sach­sen e.V. (SACCI).
2nd pho­to: "3rd Vir­tu­al InduC­CI Part­ner Meet­ing". Pho­to right: Ste­bo Com­pe­tence Cen­tre Com­mu­ni­ty Devel­op­ment, InduC­CI project partner.
InduC­CI is an Inter­reg CE project and is sup­port­ed by: